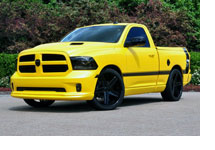 Chrysler debuted a high-performance RAM pickup truck on Saturday, August, 17, 2013 at the 2013 Woodward Dream Cruise in Michigan.
The new HEMI powered RAM 1500 celebrates a 10 year anniversary and heritage of RAM's unique truck designs.
The debut included the sound of the RAM's 5.7-liter Hemi V8 with 395 horsepower and 407 lb.-ft. of torque. To show off the HEMI's true power, Chrysler installed an electric exhaust cutout button, which causes the exhaust to bypass the muffler and showcase the engine's true "rumble."