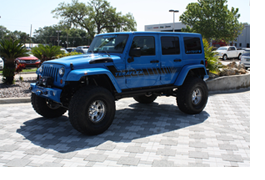 Teraflex visited New Smyrna Chrysler Jeep Dodge today with their 2011 Jeep Unlimited converted with a 6.4L SRT8 HEMI.
One of our customers looking to build a very similar jeep here at the dealership was lucky enough to take it on a test drive. Oh, and he squealed the tires on the way off the lot.
The pictures and video speak for themselves.....