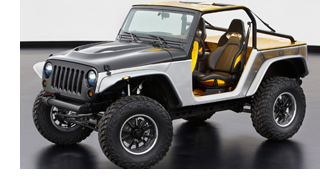 Tread Lightly, thats the Jeep moto.
The Wrangler Stitch is a modified version of the standard Wrangler that features a ton of cool off-road upgrades.
This off-roader features:
an aluminum floor plan
aluminum gas tank and control arms,
chrome roll cage,
carbon fiber hood, and a
chopped windshield.
All made to drop weight as much as possible on this Wrangler. However, the biggest weight cutting modification are transparent body panels made from architectural fabric wrapped over a solid frame.
Some of the other upgrades include racing seats from the SRT Viper supercar, a Mopar cold air intake and exhaust, 17-inch aluminum wheels, DynaTrac Pro Rock 44 axles and a ton of other off-road modifications.
This Jeep tips the scales at just 3,000 pounds, nearly a thousand pounds less than a stock Wrangler.
The Wrangler Stitch is one of six custom vehicles created by Jeep to showcase its selection of aftermarket parts and ideas for the future at the annual Easter Jeep Safari event in Moab, Utah.