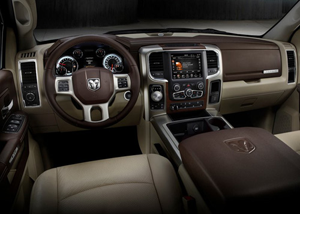 The Dodge Ram pickup has been around since 1981 and has competed on level with its Ford and Chevrolet rivals.
For 2013 the Chrysler Group is stepping it up a notch with it's 2013
Dodge Ram 1500
. The new pickup will have several new features that will put it to the top of the list as the best domestic pick-up truck.
Lets start with the outside. For the new 2013
Dodge Ram 1500
the exterior has been fine tuned to limit drag and increase fuel efficiency. The coefficient of drag is .36 and that is best in class!
Then there is the chassis. High strength steel throughout while saving 30 pounds in the frame and chassis. The suspension allows for adjustable ride height. So if you like off road you can elevate the truck for clearance or if you are on the highway you can lower the truck to decrease drag while driving at higher speeds.
Now for the interior and lets just focus on one thing. Notice in the picture above, gone are the traditional gear shift levers. Now we have the rotary knob located on the dash that acts as your gear shifter.
There are so many more features and upgrades on the 2013
Dodge Ram 1500
that it is impossible to list them all. You will just have to see for yourself. Stop by
New Smyrna Chrysler Jeep Dodge
today to get more information and prepare yourself for a new 2013 Dodge Ram 1500.